09.2020
Van Ness Campus Hospital, California, USA
The Van Ness Campus Hospital is a LEED® certified hospital facility located in the heart of San Francisco including specialized, advanced, and emergency care among its state-of-the-art services. It is part of the Next Generation of Health Care for San Francisco.
The leading Sutter Health California Pacific Medical Center (CPMC) Van Ness Campus Hospital is a 13-story, 274 bed acute care regional hospital. It boasts advanced medical technology and private rooms with both ample natural light and a view. The replacement hospital project houses both an Acute Care Center and a Women's and Children's Center.
The Birth Center offers many services, including natural childbirth coaching, professional lactation consultants, external and internal fetal monitoring, and a Level 3 Neonatal Intensive Care Unit that provides the comfort of private rooms for newborns who need extra care. Beyond general medical and surgical services, the hospital also offers key specialty care. The 24-hour emergency room includes special pediatric emergency care provided by doctors board-certified in pediatrics and emergency medicine.
The Heart and Vascular Center was given a Platinum Performance Award for their heart attack care, and they are ranked as a high performer in heart bypass surgery. Furthermore, CPMC's Transplant Center has performed an impressive 6000 kidney transplants, 2000 liver transplants and nearly 500 heart transplants over five decades and counting. Their multidisciplinary transplant team is well known for patient outcomes that surpass expectations.
Additionally, for people with complex gastroenterology problems, CPMC offers advanced imaging and minimally invasive procedures for disorders of the esophagus, stomach, gallbladder, pancreas, small intestine, and colon.
Application
Focus on energy savings (in the fields of heating, cooling and air-conditioning as well as light and water) has been high in the aim of completing LEED® rating and in June 2020 the LEED® silver rating was achieved.
With the addition of the lead-free versions of FlowCon K valves on the domestic hot water system, CPMC was able to ensure the project was equipped with an efficient automatic flow limiting valve to complement the other recent upgrades. FlowCon's US-group member Griswold Controls pioneered automatic flow limit control with the introduction of its stainless-steel flow insert in 1960. Now, sixty years later, the innovation, quality and reliability continue to set FlowCon and Griswold Controls apart from competition and to remain a frontrunner a lead-free version of FlowCon K is introduced for sensitive applications. Clearly, this lead-free version meets California Proposition 65 requirements for Safe Drinking Water and Toxic Enforcement Act of 1986. All together it is a project to be proud of.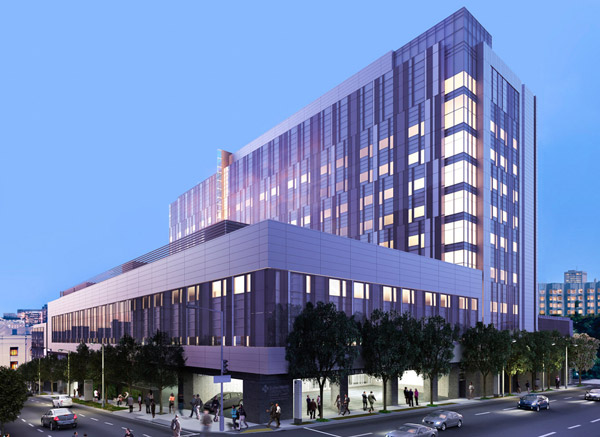 | | |
| --- | --- |
| Project name: | The Van Ness Campus Hospital, Sutter Health California Pacific Medical Center (CPMC) |
| Project management: | Sutter Health |
| Architect: | SmithGroup |
| Consultant: | SmithGroup |
| General contractor: | HerreroBOLDT (a partnership of Herrero Builders and The Boldt Company) |
| Valve model: | FlowCon K, lead-free – on hot potable water |
| Application: | New building |
| Griswold representative: | California Hydronics Corporation (CHC) |
| Date of inauguration: | 03.2019 |
---