02.2019
The Walkie-Talkie, London - United Kingdom
20 Fenchurch Street, located in the historic financial district, is no ordinary London business address - it is the home address of the notorious Walkie-Talkie building, nicknamed after its distinctive top-heavy shape.
Martin Gettings, Group Sustainability Manager at Canary Wharf Construction, comments: "Our total project approach to 'making sustainability real' has resulted in one of the most sustainable buildings of its type in central London. The team can be justly proud of this achievement and the effort made to reach these milestones."
Application
With its 38 floors the Walkie-Talkie was the fifth tallest (160 meter) building in the City of London at time of completion. It provides 64,000 m2 of office space, with floorplates that get larger in size as the floors go up, occupied fully by some of the
world's leading-edge businesses. The entrance floor and 34 floors of office space are topped by 3 levels of beautifully landscaped public gardens and London's most exclusive social spaces, including 'Sky Garden'-restaurant, observation decks and an open-air terrace. The Sky Garden has been designed to create an open and vibrant place of leisure, offering visitors a rare chance to experience London from a different viewpoint.
The building is designed for maximum efficiency and expansive views for business tenants as well as the public. In addition, the building has achieved a BREEAM Excellent rating. Altogether, the Walkie-Talkie is a commercial success for its developers and companies involved, like FlowCon.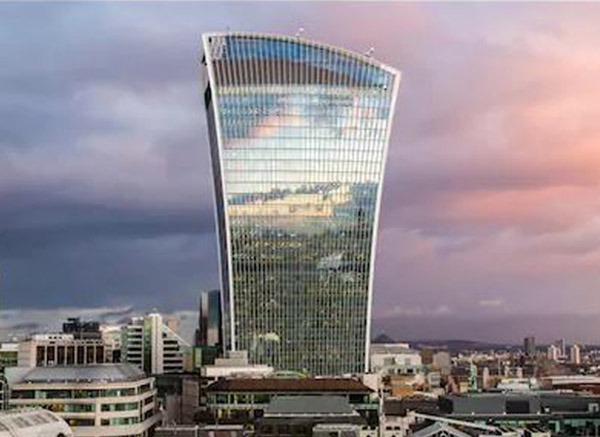 Project Name:
20 Fenchurch Street, London, UK
Client:
Joint-venture Canary Wharf Group and Land Securities Group plc
Consultant:
Adamson Associates Architects
Main Contractor:
Canary Wharf Contractors Ltd
Subcontractor:
Kilnbridge
Valve Model and Quantity:
850+ Assemblies incl. FlowCon Mini By-Pass with FlowCon Green and FN.0.2 and
100+ FlowCon Green.2 and .3
Installation:
Heat Exchangers, FCUs (DN15-50) and AHUs (DN50-100)
Application:
New building
FlowCon Distributor:
FloControl Ltd
Date of Inauguration:
2014
Building Features
Installation: FlowCon's exclusive UK distributor and business partner FloControl Ltd. has designed and pre-assembled a plug & play solution for the project with significantly reduced installation- and commissioning time. The valve-set solution fits directly over the FCU drip tray. It comes either vertically or horizontally configured making it suitable for small spaces and slim line units. The FlowCon Mini By-Pass assembly with Green PICV is the ideal compact, yet efficient solution.
Serviceability: At the heart of the module is the FlowCon Green insert which combines a full stroke control valve and an automatic flow limiting valve in one, still being fully pressure independent. The supplied valve-set solution includes all components required to flush backward, forward and externally.
In normal operation the solution will provide dynamic balancing and 100% temperature control with full authority, even at partial loads. Further, service and maintenance are easy due to the insert solution.
Performance: The project boasts the first hydrogen fuel cell (300kW) installed in a commercial building in the City of London resulting in low carbon, low emissions electricity, reducing the building's carbon dioxide emissions by at least 270 tons per year. Next to this, the benefit of using FlowCon PICVs at each terminal unit is maintained target ΔT with-out any overflow and FlowCon valves help reducing system pressure to a minimum which again, together with energy efficient pumps, reduces energy consumption.
---