09.2019
New Wing at Sunshine Hospital, Melbourne, Australia
The new Joan Kirner Women's and Children's Hospital at Sunshine Hospital will provide best care to families across Melbourne's West - and FlowCon will care for the indoor user comfort.
#YourEnvironmentOurCommitment
The Joan Kirner Women's and Children's Hospital - honoring the legacy of Victoria's first female Premier - will meet rising demand for maternity and pediatric services in Melbourne, one of Australia's fastest growing areas. With 5.300 babies born every year at Sunshine Hospital which expect to increase to at least 7.000 births per year by 2026 this new world-class colocation for women's and children's services is well needed.
The newbuilt multicolored facility provides specialist maternity and pediatric care in one location. The mo-dern new building in 9 levels includes: a ground floor atrium, first floor open clinic, 2 floors of labor delivery rooms and operating facilities, 2 floors of hospital workspace and special care nursery cots and finally 3 floors including inpatient bedrooms and an outdoor room - all together 25.000 m2 and a total of 237 beds, 20 maternity delivery rooms, 39 special care nursery cots, 64 maternity beds, 32 pediatric beds, 4 operating rooms and additional outpatient clinics. It also features the West's first ever neonatal intensive care unit to care for the most critically ill babies.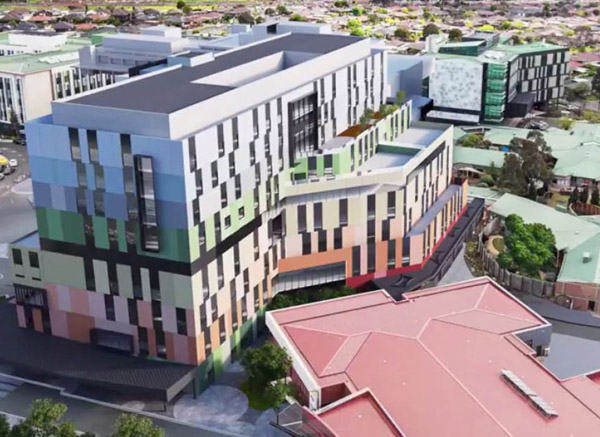 | | |
| --- | --- |
| Project Name: | Joan Kirner Women's and Children's section, Sunshine Hospital, Melbourne, Australia |
| Client: | Victorian Health and Human Services & Western Health |
| Architect: | Lyons |
| Consultant: | Currie & Brown |
| Contractor: | Lendlease |
| Valve Model and Quantity: | 250+ FlowCon EVS and FlowCon Green on chilled beams |
| Application: | New building |
| FlowCon Distributor: | Matthew Davis Australia P/L |
| Date of Inauguration: | May 5, 2019 |
Application
The FlowCon temperature control valves and PICVs are used on all chilled beams in patient bedrooms and administration offices. With the FlowCon solution temperature is kept nice and cool.
Building Features
Performance: The requirement to this world-class building was from the start put on design, openness and energy efficiency. Local work force was involved in the entire process and FlowCon valves were chosen due to ease of use and excellent performance securing optimal indoor comfort for all staff, patients and visitors.
Serviceability: With the FlowCon unique insert solution, time and money were saved during the installation- and commissioning phase of the project and coming maintenance costs will also be kept at a minimum.
---