10.2018
Welcome on Board, Welcome to Queen Elizabeth 2 Hotel, Dubai
The renovated "Lady" continues her legacy and is in her old days now functioning as a floating luxury hotel in Port Rashid, Dubai. Queen Elizabeth is definitely on Dubai's bucket list
#stillmakinghistory
Queen Elizabeth 2, often referred to simply as QE2, is a floating hotel and a retired built from the Cunard Line which operated as both a transatlantic and a cruise ship from 1969 to 2008. Since April 2018 she has been operating as a floating hotel in Dubai.
QE2 was retired from active sailing service in November 2008. She had been acquired by the private equity arm of Dubai World, which planned to begin conversion of the vessel to a 500-room floating hotel moored at the Palm Jumeirah, Dubai. The 2008 financial crisis, however, intervened and the ship was laid up until March 2017, where refurbishment on the ship started. The restored QE2 opened to visitors on 18th April 2018.
The hotel ship offers spa services incl. a pool, a theater and a private beach as well as a number of bars, restaurants and duty-free shopping catering 4,000 guests per day.
Part of the refurbishment included replacement of critical parts of the HVAC system and updating to FlowCon PICVs - FlowCon is proud to be on board.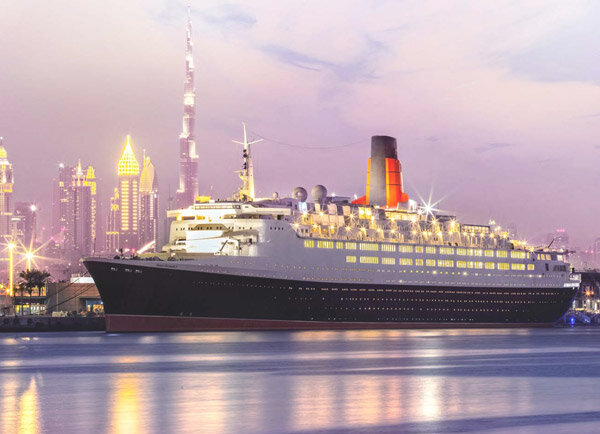 Owner:
DP World
Architect:
IPA Architects and Designers
Consultant:
Max Fordham, Arup and BAM
Contractor:
Shafa Construction
Project Name:
Queen Elizabeth II, Mina Rashid, Dubai, UAE
Configuration of Project:
Refurbishment of cruise ship for service as floating hotel incl. restaurants and bars
Valve Model:
FlowCon Green
FlowCon SM
Types of Application:
Refurbishment
Date of Inauguration:
18th April 2018 with official launch October 2018
---