11.2022
Oval Village, London, United Kingdom
A modern and green Mixed-Use project resulting in a lively community where people can live, work, shop, and play.
The Oval Village is a major regeneration project located in the southern part of London. The Oval Gas Works and the Kennington Lane area will create a new and green community. It will include modern apartments, many new work opportunities, and aim to re-green the area resulting in better biodiversity.
The first phase includes the apartment blocks Phoenix Court, Juniper Gardens and The Pinnacle offering modern homes spread over one-, two- and three-bedroom apartments. Both the Phoenix Court complex and the Juniper Gardens complex cover up to 16 floors and the Pinnacle tops it with its 18 floors. By now, the Phoenix Court is complete. Juniper Gardens' groundwork is ready, and the concrete frame is complete. The Pinnacle is next in line. In between the buildings, landscaped gardens offer room for contemplation and relaxation and some of the buildings also provide access to private roof terraces. From these buildings, you will get a good view over the Kia Oval, London's cricket stadium, to the South, the Vauxhall buildings in the West and London's iconic skyline to the North. Oval Village, shaped by rich history, will be an exciting and unique place to live.
Application
The project includes many sustainable initiatives such as attenuation rainwater tanks and recycled rainwater irrigation of green areas. And for the construction internals, a site-wide district heating network in connection with solar panels and a super modern ventilation system shall secure low energy use and still provide optimal indoor climate control.
A space saving FloSet® Compact valve set is installed on each apartment's FCU to handle heating and cooling duties. The FloSet® Compact was chosen as it is the smallest FCU valve set in the market for pressure independent automatic balancing and flow control.
Each FloSet® Compact includes a FlowCon By-Pass Mini with only a 40 mm center distance, a FlowCon Venturi Metering Station, and a FlowCon PICV. The valve set is fitted as one-unit directly over the FCU drip tray. The valve set offers 5 different operation modes. These include normal operation, back flushing, forward flushing, coil isolation/system flush and full isolation. The FlowCon PICV insert solution provides flexibility in all project stages from selection, setting and commissioning to servicing. All-together a compact and smart solution providing optimal indoor comfort, reduced energy consumption and a better building CO2 footprint.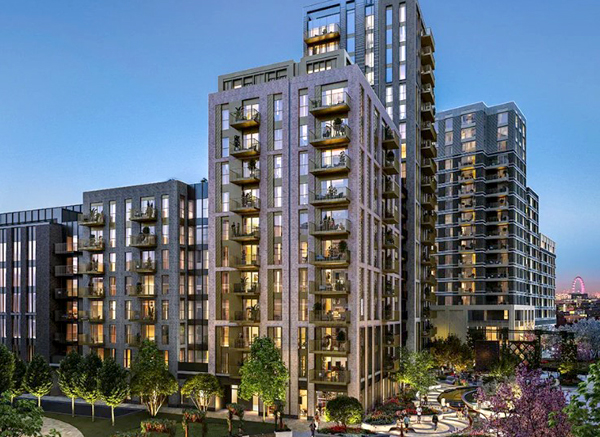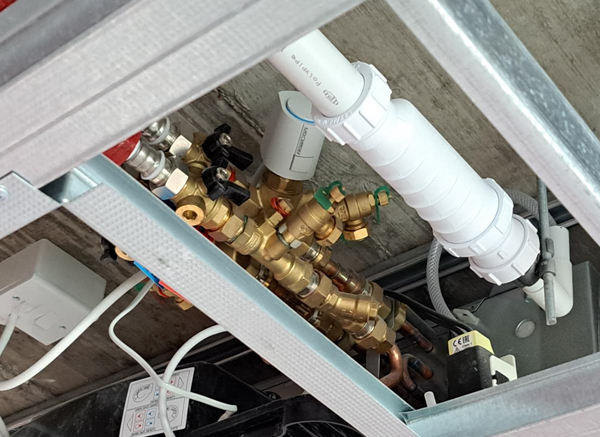 Project Configurations
For the residential blocks, Phoenix Court and Juniper Gardens, FlowCon is the sole provider of PICVs.
Project name:
Oval Village
Developer:
Berkeley Group
Architect:
GRID Architects
Consultant:
Waterman Group
Contractor:
Malcolm Building Services
Valve model and quantity:
~1900 FlowCon By-Pass Mini incl.
FlowCon MS15 Metering Station and
FlowCon GreEQ/Green inserts
Application:
Residential and mixed use
FlowCon distributor:
FloControl
Date of inauguration:
Q4 2022
---