10.2021
Kuwait University, College of Engineering and Petroleum
One of the largest educational campuses in the world unifies all Engineering and Technical disciplines in a new and modern academic complex.
In celebration of Kuwait University's 50th anniversary the Sabah Al-Salem University City Campus in the southern part of the capital was announced. Here one will also find the new residence for the College of Engineering and Petroleum – in short CEOP – which opened in 2020. This large complex houses Architecture, Chemical Engineering, Civil Engineering, Computer Engineering, Electrical Engineering, Industrial Engineering and Management Systems, Mechanical Engineering, Petroleum Engineering and includes room for future new academic departments.
The construction is 215.000 m2 divided over 7 floors incl. 94.000 m2 basement for parking. It is today the daily home to almost 7.000 students, professors, and other staff.
The COEP building offers easy circulation between departments. It contains laboratories, classrooms, project-based workshop areas, galleries, exhibition halls, faculty offices, conference rooms and prayer rooms. Several S-curves have been incorporated into the building design which created shaded courtyards and outdoor labs. Further, a pedestrian pathway running like a spine from north south, connects the Oasis side with the major entrance for students. The center of the building, The Galleria Souk, offers food services, retail, lounges, large lecture facilities and exhibit halls as a supplement to an active study life.
Application
The entire complex - with silver LEED certification – is fitted with FlowCon PICVs to secure optimal indoor temperature for all and with the many windows and the internal courtyards covered with glass panels over interior windows top, tight temperature control is required. For the FCUs, FlowCon Green insert-based PICVs were selected together with an electrical modulating actuator. For the AHUs and HRUs, FlowCon SM with the unique user-friendly and programmable electrical actuator were chosen. With both PICV-solutions full authority is providing the best HVAC control despite warm summers and chilled winters.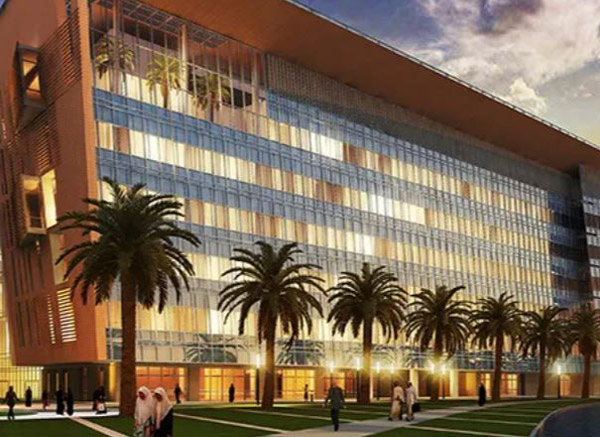 | | |
| --- | --- |
| Project name: | Kuwait University |
| Project management: | Turner Projacs |
| Consultant: | Cambridge Seven Associates / Gulf Consult |
| HVAC Contractor: | Al Mulla Engineering |
| Valve model and quantity: | 500+ PICVs, FlowCon Green on FCUs, FlowCon SM on AHUs and on Heat Recovery Units |
| Application: | New building |
| Date of inauguration: | 01.2020 |
---