08.2021
IECC Exhibition and Convention Center, New Delhi, India
Redevelopment and modernization go hand in hand in this India Trade Promotion Organization, ITPO project.
The exhibition and convention center is located 18 km from the international airport and only 2.5 km from the main business area of Connaught Place. The redevelopment of the 50-year-old exhibition center, Pragati Maidan Complex, is about to finish. Even though the old complex was India's largest exhibition center, the introduction of the new and modern world class Integrated-Exhibition-cum-Convention-Centre, IECC, will be even bigger. It will include:
A convention center with max. 7.700 seats, a 3.000-seat amphitheater, a business center, 600- and 900-seats auditoriums and 26 meeting rooms. A GRIHA 4 certified Green Building of 53.000 m2.
11 exhibition halls covering 300.000 m2 based on a two-phase redevelopment strategy. Phase 1 will include new 7 exhibition halls. Exhibition halls be will GRIHA 3 Green Building rated.
Plenty of underground parking facilities and good infrastructure connectivity to encourage use of public transportation, but also allow roads to decongest fast.
3 open-air amphitheaters for live performances and cultural shows.
And in the future also a high-level hotel.
Application
Due to the fully air-conditioned convention center and a design teperature of 20°C ±1°C, the expansive glass lobby will allow complete view of the surroun-ding areas without compromising the indoor climate. Also, the exhibition halls will include same level of sophisticated air-condition. The well-proven FlowCon PICVs mounted on all AHUs to secure proper indoor temperature and Dynamic Balancing valves for primary system balancing.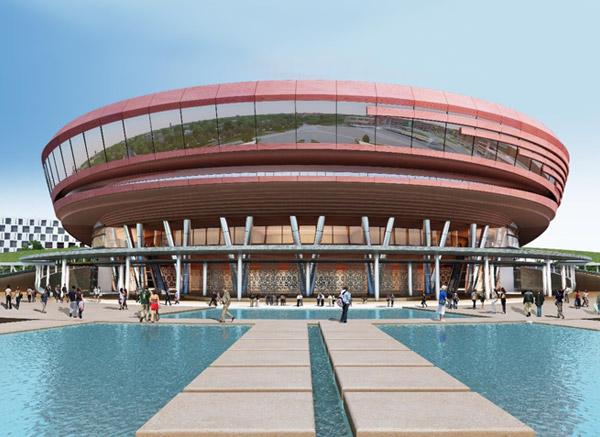 | | |
| --- | --- |
| Project name: | Integrated Exhibition cum Convention Centre (IECC) |
| Client: | India Trade Promotion Organization, ITPO |
| Project management: | NBCC (INDIA) Ltd. |
| Architect: | M/s Arcop |
| Consultant: | Meinhardt Consultant |
| Contractor: | APC Engineers & Consultants (P) Ltd. |
| Valve model and quantity: | PICVs and Dynamic Balancing: 154 x FlowCon Green and FlowCon SM, 18 x FlowCon Wafer, DN300-500 |
| Application: | New buildings |
| FlowCon distributor: | Ensavior |
| Date of inauguration: | March 2022 - soft opening Q2/2021 |
---