01.2021
Delta House, Belgrade, Serbia
A new symbol of New Belgrade is emerging: Delta House. Being a Class A office building designed and constructed according to LEED standards, Delta House is a symbol of the future.
Delta House - Delta Holding's future headquarters – is a modern, luxury, Class A office building located in the heart of New Belgrade's central business district. It covers 23.000 m2 over 9 floors plus two levels of underground parking for 190 cars. The building includes 24/7 security, restaurant, cafés and relaxation areas, shops and a modern gym. With its unique design and energy efficient solutions the facility will be something completely new and will certainly change the offer of New Belgrade, as well as the appearance of this part of the city.
The office block is designed according to LEED standards and will house Delta Holding on the top four floors. Remaining five floors are ready for rent. The LEED standard itself will confirm the energy efficiency of the building, as well as the fact that all environmental protection requirements have been met during construction and later, during the operation of the building. To this should be added the maximum flexibility of business space which can be adjusted according to specific tenant's needs. The easy office space alteration is supported HVAC-wise using dynamic PICVs, which allow single adjustment without conflicting with the remaining system. During the construction phase, FlowCon has supplied PICV valves and control valves in three phases to support contractor's requirements. Altogether, the choice for FlowCon was straightforward!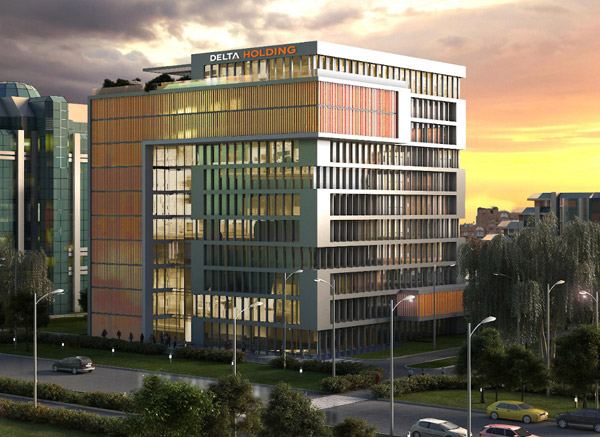 | | |
| --- | --- |
| Project name: | Delta House |
| Project management: | Delta Holding |
| Architect: | MYS Architects |
| Consultant: | Termoprojekt |
| Contractor: | Energoprojekt |
| Valve model and quantity: | 2000 pcs. FlowCon Green, FlowCon SM and FlowCon Unimizer® on Chilled beams, AHUs and HEXs |
| Application: | New building |
| FlowCon distributor: | Energy Net |
| Date of inauguration: | Spring 2021 |
---