08.2009
New Fantastic "State of the Art" Stadium with International Facilities in Dublin, Ireland
To obtain optimal climate conditions in all areas/rooms of the stadium, FlowCon was selected as the supplier of high efficient control and balancing valves, to the Aviva "State of the Art" stadium in Dublin, Ireland. All valves were supplied through Advanced Technical Products Ltd. (exclusive distributor of FlowCon valves in Ireland).
Lansdowne Road has been used as a venue for sporting activities since 1872. The first rugby international was played there in 1878, while the stadium also became home to the Irish soccer team in the 1980s.
It had been acknowledged for some time that the old Lansdowne Road stadium was no longer suitable for international sport. It did not meet the needs, nor the expectations of today's major sporting occasions or of the Irish sporting public, that has been exposed to modern stadiums all over the world.
The new Aviva Stadium, at Lansdowne Road, has been designed to be a state-of-the-art modern stadium, which, on completion, will have an all seated capacity of 50,000. There will be 10,000 seats at premium level and a further 1,500 at box level. In addition to this there will be 38,500 standard seats.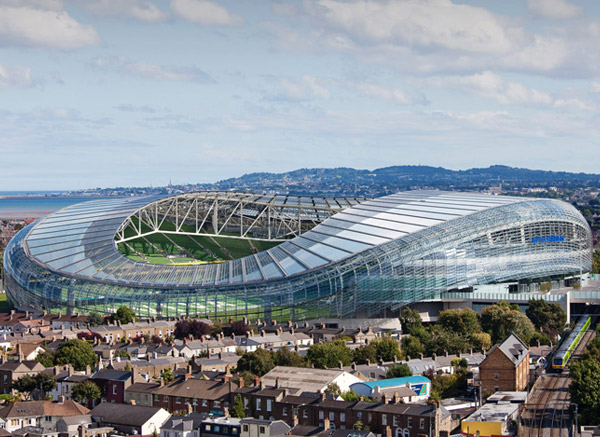 Project Name:
Aviva Stadium
Location:
Lansdowne Road, Dublin, Ireland
Type of Building:
Stadium
Configuration of Building:
FlowCon Wafer type valves for the plant room (chillers and boilers), FlowCon E-Just cartridges in AB-bodies for radiators.
FlowCon SM valves for Air handler units and FlowCon SME with 3-point floating actuators for Fan coil units
Developer:
Lansdowne Road Stadium Development Company (LRSDC)
Date Installed:
Between end 2008 till 3. quarter 2009. Opening: early 2010
Consultant:
M-E Engineers Limited
Contractor:
Mercury Engineering
FlowCon International A/S have supplied both Dynamic balancing valves and combined temperature and flow control valves for the stadium. More than 400 valves have been supplied to the project.
The types of FlowCon dynamic balancing valves included in the project are FlowCon Wafer type valves for plant room (chillers and boilers) and FlowCon E-JUST cartridges in AB-bodies for correct water distribution between radiators. As combined flow and temperature control valves the FlowCon SM valves with electrical modulating actuators were selected for Air handler units and FlowCon SME with 3-point floating actuators for the Fan coil units.
The use of FlowCon valves completely eliminates the need for individual balancing, thus resulting in ease of installation and cost saving during commissioning. Further to this, as all valves supplied by FlowCon are dynamic control valves, they will, in any given situation, be controlling the flow, and where needed also the temperature, so the optimal conditions in all areas of the stadium will be reached at any given time! This will help optimizing the running cost to a minimum over time, and give the best possible energy effective solution.
It is seen, also by the selection of supplier of valves and construction of HVAC-system, that the redeveloped stadium has been designed to provide superb facilities for all events.
---