07.2021
Amrita Hospital, Faridabad, India
The new hospital complex, the Amrita Institute of Medical Sciences & Research Centre - in short Amrita Hospital, Faridabad - is about to open. It is located in Faridabad just south of the national capital region of New Delhi. The hospital and medical college includes 2.000 bed and covers 400.000 m2 and is the largest hospital in the New Delhi area. When the foundation stone was laid 5 years ago Chancellor Sri Mata Amritanandamayi Devi (Amma) stated: "May this new hospital become an abode of service to humankind and a place of solace for the sick. We should never forget that we require two types of health - external and internal. While external bodily health is no doubt important, internal health, which involves cultivating a sharing and caring attitude and compassion for the less fortunate, is no less crucial."
The new hospital will feature the complete range of specialties including a heart institute, a cancer diagnosis and therapy institute, organ transplantation and robotic surgery, centers for neuroscience, epilepsy, diabetes, metabolism and many more. Next to this the hospital includes advanced laboratories for among others molecular diagnostics, medical imaging, and interventional radiology. On its own, the hospital includes a highly specialized children's hospital with special focus on mother-and-child healthcare under one roof. The Amrita Hospital, Faridabad will honor the tradition of providing charitable and funded care for those less well-off and dedicate an entire building to carry out research concentrated on low-cost solutions to make medical care more affordable.
Application
Throughout the project FlowCon PICVs have been installed to secure optimal indoor climate for hospital staff, patients, and visitors. On the fan coil units, the insert-based FlowCon Green is installed and for the more advanced air handler units, the larger FlowCon Green and FlowCon SMs are installed - all with electrical modulating actuators. By using the PICV technology from FlowCon the hospital project obtains full authority and pressure independency in the HVAC valves, which will support better indoor climate and at the same time keep pumping and chiller cost down and allow for easier service.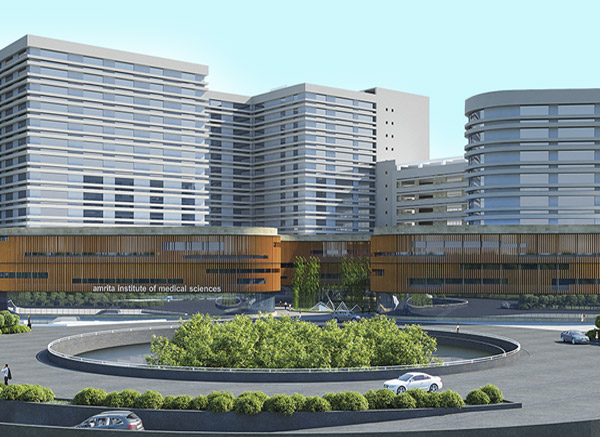 | | |
| --- | --- |
| Project name: | Amrita Institute of Medical Science and Research Centre |
| Client: | Mata Amritanandamayi Math |
| Architect: | M/s PPAL |
| Consultant: | Dew Point Consultant |
| Contractor: | Blue Star Limited |
| Valve model and quantity: | Pressure independent control: FlowCon Green and FlowCon SM on FCUs and AHUs. All together 1100+ PICV valves |
| Application: | New building |
| FlowCon distributor: | Ensavior |
| Date of inauguration: | Q3/2021 |
---