02.2021
201 Deansgate, Manchester, UK
Refurbishment and retrofit done right…
Easy task with FlowCon's automatic balancing- and PICV inserts.
The 5-storey building was originally built late in the last millennium in the very heart of Manchester. During the last 1½ years the 6.300 m2 building has undergone a needed updated to meet current energy- and comfort requirements within the common areas and the available office accommodation, which included levels 1, 2 and 4. The large regular shaped efficient floorplates were all arranged around an internal courtyard and a 4-storey entrance atrium. Today the modern office complex houses: AIG (UK) Ltd., Exchange Chambers, LSB Ltd., Interactive Investor Trading Ltd., Cashworth Ltd., M. Chaytow Ltd. and Investor Nominees Ltd.
The comprehensive refurbishment included updating of Fan Coil Units and associated valve sets. As the refurbishment period stretched over more than one year, it was essential that the proposed solution could work well with the existing constant flow pumps and still work and be easily upgradable to the new variable speed pumps. FlowCon's UK distributor, FloControl, proposed a valve set solution incl. FlowCon E-JUST and FlowCon Green inserts.
Application
Over 350 valve sets were supplied to control the heating and cooling on the 4-pipe Fan Coil Units. The FCU valve sets were fitted directly to the Ability FCUs. A major part of the solution was the interchangeable insert concept of FlowCon ABVs (E-JUST) and PICVs (Green), which enabled an easy and cost-effective switch to variable flow. The valve set remained in the pipework during the system upgrade 18 months later.
The preliminary constant flow solution had a pressure independent automatic balancing E-JUST insert fitted. Together, the FlowCon E-JUST limited the flow, eliminating overflows and a 4-port control valve diverted the flow when no heating or cooling was required. Each valve set also included an essential flushing bypass, a metering station for flow measurement and flow- and return drains. The valve set had a center distance of only 40 mm which allowed for direct mounting to the FCU over the drip tray avoiding the need for additional insulation.
When the system was changed to variable flow, each FlowCon E-JUST insert was simply replaced with a FlowCon Green insert and the modulating actuator, FlowCon FN.0.2, was moved from the 4-port control valve, which was left installed, to the PICV avoiding re-wiring and draining of the FCU.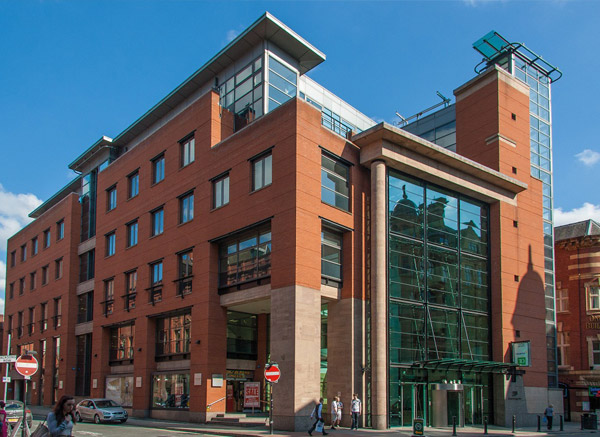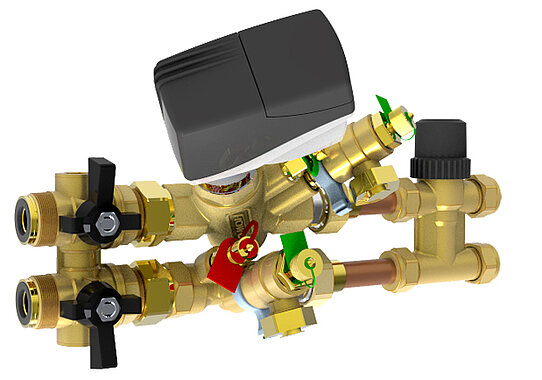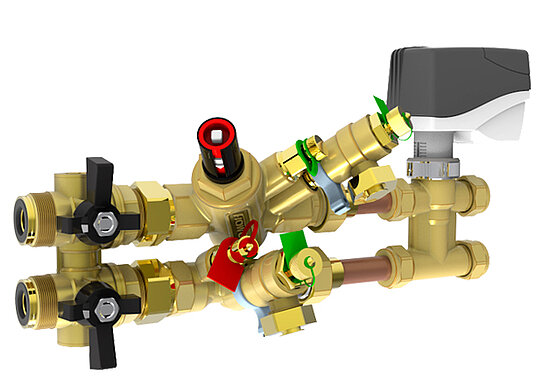 | | |
| --- | --- |
| Project name: | 201 Deansgate, Manchester |
| Building owner: | Essex County Council |
| Contractor: | ADT Energy |
| FCU manufacturer: | Ability |
| Valve model and quantity: | 350 x valve sets, DN15 incl. FlowCon By-Pass Mini with FlowCon E-JUST and FlowCon Green |
| Application: | Refurbishment and retrofit |
| FlowCon distributor: | FloControl Ltd. |
| Date of completion: | November 2020 |
---