FlowCon UniQ™ -
FlowCon International Presents the New PICV
FlowCon International is enthusiastic to introduce the latest addition to our pressure independent control valve (PICV) program named FlowCon UniQ™.
The UniQ™ valve is - unlike the remaining FlowCon PICV portfolio utilizing cartridge technology - a "built-up" type PICV and thereby designed to target buildings with focus on initial investment combined with basic PICV requirements.
Further, the UniQ™ valve is particularly suitable for optimizing hydronic system ΔT, enhancing system performance and reducing energy cost.
There are many motivations to improve energy efficiency, both environmental and financial bene-fit. According to the International Energy Agency, improved energy efficiency in buildings, industrial processes and transportation could reduce the world's energy needs in 2050 by one third of current level and help control global emissions of greenhouse gases.
FlowCon would like to take one more step into the future and introduce the FlowCon UniQ™. The FlowCon UniQ™ has a minimum working pressure starting as low as only 10 kPaD, meaning that the valve has a big improvement in operating costs due to pump cost reductions. In fact:
FlowCon UniQ™ valve is the most energy-efficient PICV available in the market.
FlowCon UniQ™ offers:
A compact one-unit PICV (housing and regulator is combined).
No need of calculating valve authority - 100% is provided guaranteed.
Up to 41 different and selectable flow settings (20.3-751 l/hr)
- stepless settings in between.
A working pressure starting at only 10 kPaD resulting in pump energy savings.
Fast response time to pressure fluctuations increasing system stability.
Low flow rates making it ideal for low flow applications such as chilled ceilings etc.
The choice between either fixed female-female or EuroCone connections.
The most compact valve in the FlowCon series PICV valve range.
Attractive prices maintaining a large range of flow spans.
Real pressure independency at all flow rates and all actuator positions
- a true PICV.
Full stroke modulation.

The FlowCon UniQ™ has a compact design being 3-in-1 complete unit covering flow rates from:
20.3-751 l/hr in a ΔP range of 10-200 kPaD.
The valve offers stepless adjustment with 41 different setting indications between minimum and maximum. Further, this compact PICV will match FlowCon actuators providing options for thermal and electrical control.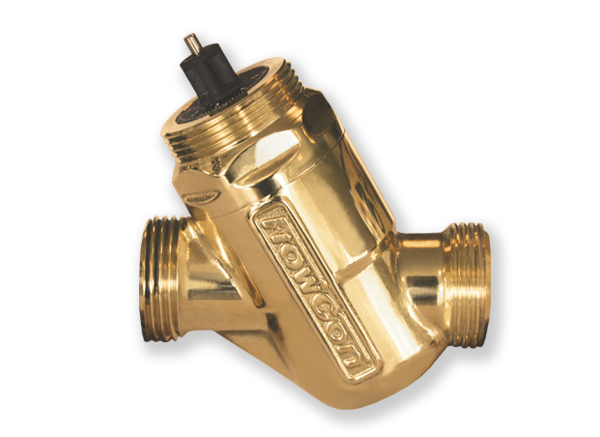 ---