FlowCon Mini By-Pass Unit
- commissioning made even easier
The new FlowCon Mini By-Pass will - with a center measurement of only 40 mm - fit directly on small FCUs without further adaptation.
The unit is 20 mm male threaded suitable for DN15 EuroCone connections and a variety of union end connections is available. Additionally, the unit can be ordered with extended handles if needed in the specific application.
Finally, the new FlowCon Mini By-Pass can be supplied with one or two side options upon request , e.g. for drain and air vent.
Technical data:
3 way mini By-Pass unit.
Forged brass housing.
Nickel plated brass ball valves.
Can be fitted with optional FlowCon strainer and drain possibility on supply side.
Can be fitted with optional FlowCon inserts/cartridges on return side (Green, EVS, Composite, E-JUST or Stainless Steel).
Can be fitted with a range of optional FlowCon actuators on return side (depending on insert/cartridge selection and valve body).
ISO sizes: 4 x 20 mm (3/4") male fixed end for DN15 EuroCone. Multiple union end connections available.
All together, the FlowCon Mini By-Pass unit is a compact and smart solution for both consultants, contractors and maintenance people. The FlowCon all-in-one solution is the easiest solution for automatic balancing and temperature control of HVAC applications.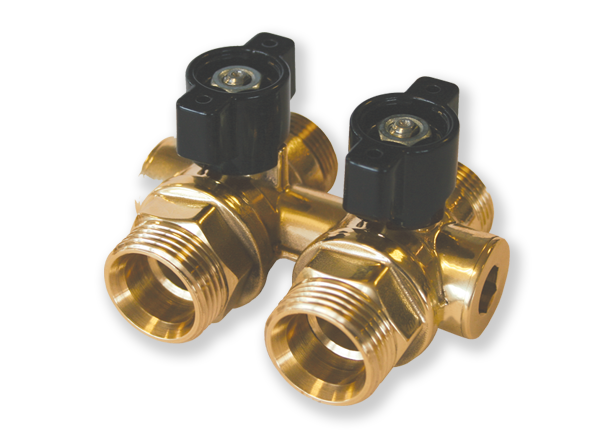 ---