FlowCon Green.3
The new PICV from FlowCon International
For almost a quarter of a century, FlowCon has been devoted to the development and production of high quality dynamic valves for balancing of HVAC systems. Striving to offer the perfect product selection, we are proud to introduce the new FlowCon Green PICV - accommodating the increasing "value for money" demand within the global PICV market.
By working closely with our partners and HVAC industry stakeholders, FlowCon has developed a larger capacity PICV satisfying the increased requirement for energy efficiency, accuracy and compactness to ensure the optimal comfort at a minimum initial- and operational cost.
FlowCon Green.3 builds on the pioneer knowledge acquired by FlowCon International over the past 25 years, where the first generation of PICV's was released. The concepts seen in this specific release are known from the popular FlowCon E-Just and FlowCon Green range, meaning that the technologies used in the Green.3 valve are well known and proven in HVAC systems for more than 20 years.
The launch of the Green.3 valve range is supported by a range of custom actuators intended for the specific valve ensuring optimal valve operation. The actuators naturally support the common control signals and can be incorporated with standard BMS systems directly.
FlowCon Green.3 offers:
Versions:
- DN40 fixed female/female
- DN50 fixed female/female
A Compact one-unit PICV:
(housing and regulator is combined)
41 different settings.
A true PICV containing;
- 100% valve authority guaranteed. Eliminates valve authority calculations.
- Fast response time to pressure fluctuations increasing system stability.
- Real pressure independency at all valve and actuator positions.
- Full stroke modulation regardless of maximum flow setting.
Material:
- Flow regulation unit (internal): PPS, POM.
- Metal components (internal): Stainless steel.
- O-rings and seat: EPDM.
- Housing: Forged brass ASTM CuZn40Pb2.
Maximum close off pressure: 600 kPaD.
Maximum operational ΔP: 400 kPaD.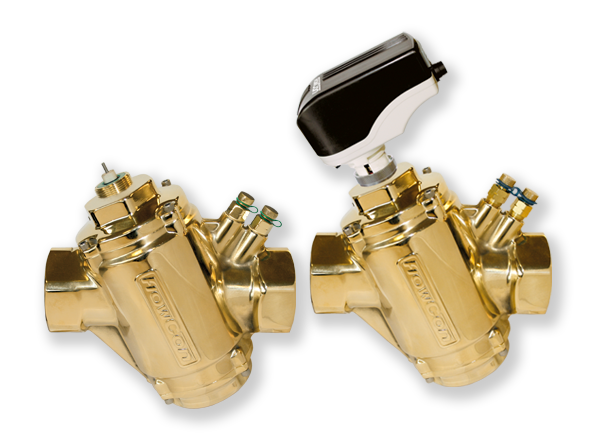 ---